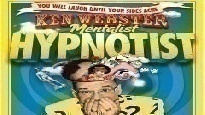 Show Description
Ken Webster is the UK´s most original hypnotist and arguably the funniest. This will be his 28th year at Blackpool Pleasure Beach! He was and still is the UK´s most copied hypnotist ... but he is still unequalled. His show is for over 18´s only! It is not for the easily offended! Robbie Williams said "Simply the Best", Garry Bushell said "Outrageously Funny". This has to be one of, if not the funniest show in Blackpool. No two shows are ever the same. "You will laugh until your sides ache". The Horseshoe Showbar is a great show venue as everyone is close to the stage to see all the action. Don´t worry if you don´t want to take part its no problem just watch and have fun. Ken asks for volunteers to take part in the show. The rest of the audience can just sit, relax and order drinks from the bar. If fact there is really no need to even leave your seat as staff will take your bar order and deliver your drinks to your table so you don´t miss a minute of fun. Don´t Delay Ken Webster Outrageous Comedy Hypnotist show at Horseshoe Showbar tickets always sell fast. Book yours now to avoid disappointment.
Show Dates
| | | | |
| --- | --- | --- | --- |
| Show Date | Time | Price from | Buy Tickets |
INFORMATION CORRECT AT TIME OF PUBLISH.